Reasons why you should choose WordPress to build your website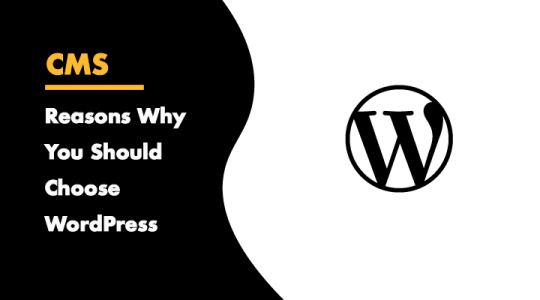 WordPress is the most commonly used content management system in the word. Anyone can build a stunning website in minutes using it's pre-build themes and integrated features. Today, many companies use WordPress as their first choice of creating websites for their business. The main advantage of using WordPress is the user-friendliness and pre-build themes with control panel. Anyone without coding skills can build a website by simply following the guidelines. There are advanced WordPress sites which can be built by advanced users, but a normal user can build websites with stunning designs.
Here, let's find out what are the key advantages that WordPress provides to a user.
Pre-built themes
Well, there are plenty of beautiful themes in WordPress for user in order to customize them with minimum effort. User can download or integrate themes by searching which business domain they need. These themes are deployed with almost all the features that a website should have. You can select your themes while setting up WordPress in your server or it can be integrated after setting up basic core functionalities. You can search and download free  themes from wordpress.org or you can buy themes from sites like themeforest etc. These pre-build themes contain sections and blocks which user can drag and drop and edit the contents such as texts or images. User can also integrate transition effects and other animations into sections by simply choosing the options. There are many easy page builders available in WordPress so that user can integrate at their choice.
Easy to Deploy
Deployment of WordPress and its files are easy to be done in a server. Today, almost every hosting companies are providing WordPress hosting as their main service. Hosting providers like Godaddy and Bluehost are providing WordPress hosting as their service which includes optimized server settings and other key features in order to perform your website well in the web.
User-friendly admin panel
The control panel of WordPress is very user friendly in which a normal user can update the contents easily with minimum skills. It has features for managing the posts, categories, webpages etc. user can also manage page settings, site settings such as menu management and other key functions of a website hassle free. User can be login to WordPress admin panel by going through the login screen and giving their user credentials. User can setup their credentials while setting up WordPress and they can change their credentials later on.
Easily installable plugins
This is another stunning feature of WordPress. User is able to install multiple third-party plugins to support your website. Plugins can be used to add enhanced features or supporting your website or server settings. There are thousands of third-party plugins that user can install from various sources by simply going to the plugins section in control panel.
Best for SEO
As we know, today SEO is considered as a major activity in making your website to have a good ranking in search engines like google or Bing. WordPress allows the user to do SEO at very minimum effort and user gets good results in their digital marketing. There are plenty of good free SEO plugins and tools which can be integrated with WordPress. Yoast SEO is one of the kinds which allows the user to manage meta tags and descriptions with focus keywords to optimize your website easily.
Good for Analytics
The on-going information about your website is crucial for every business organizations. The user activities such as number of visitors, their page engagements, number of live users are very important for a business in order to form their marketing strategies. WordPress can implement tools such as Google analytics and many other. There are plugins such as Google site kit which allows the user to integrate and authenticate your site with Google.
Open source and customizable
WordPress is an open source platform so the source code is available to anyone in order to customize to their own design or functionality. A WordPress user can customize their website completely by editing the core functionalities and scripts and they can deploy modified version in their server.
Supports E-Commerce
Initially, WordPress was introduced to create and manage blog posts for bloggers and later it was used to build web pages then it became the worlds leading website builder tool. Now, with the advancement of e-commerce platforms, WordPress is no different. Thy introduced WooCommerce as their official ecommerce plugin to integrate ecommerce into your website. Well, there are other ecommerce plugins as well, but, as far as WordPress is concerned, WooCommerce is the best. it has features such as order management, product management and payment gateway integration etc.
Hope you have enjoyed your reading about WordPress and why you should choose WordPress as a tool to manage your website. If you are looking for a WordPress developer or want to build a custom WordPress website, WordPress ecommerce integration, WordPress custom website design, you can contact us at Calpar Global. If you want to learn more about author of this article, follow LinkedIn Profile